PUBLIC RELATIONS: PUBLIC AFFAIRS & MEDIA RELATIONS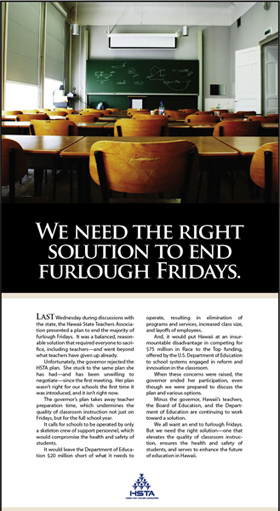 1. Hawaii State Teachers Association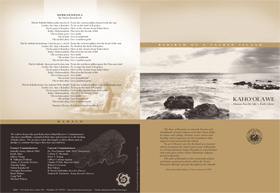 2. Kaho'olawe Island Reserve Commission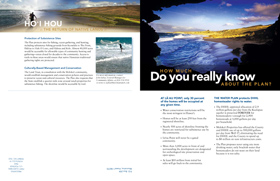 3. Moloka'i Properties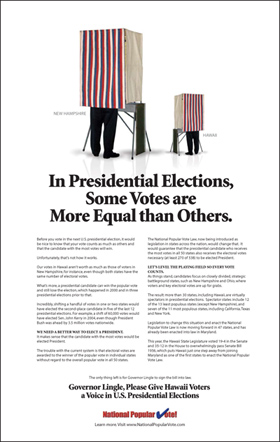 4. National Popular Vote
Fuel works on retainer or on a project basis with public relations clients. We concentrate on two core areas of public relations—public affairs and media relations.

Public Affairs
Our public affairs work is focused on strategy, campaign development, and execution. Campaign components typically include advocacy advertising for print and broadcast, informational videos, community education programs, opinion-editorial commentaries, and a host of editorial support materials.
Information and education campaigns developed by Fuel build awareness and foster understanding of complex issues, and typically advocate a position. Fuel advocacy campaigns coupled with lobbying, media relations, and other efforts are aimed at accomplishing attitudinal change in the community in support or opposition to legislative policy and other issues.
Media Relations
Working relationships with the media and an understanding of how the media operate improve the odds that news involving your company or organization will be reported accurately. Ideally, news about your business or organization will always be filled with sunshine and light, contributing to a positive image in the community. On the other hand, if the news is bad—and sometime it might be—ensuring that your side of the story is presented fairly and responsibly is of primary importance. In any event, it's important that these relationships be built when times are good, when you can still build goodwill.
Fuel develops a media plan to deliver your organization's messages to print and broadcast media. Typically, the media plan includes creation of a media kit and a communications strategy that uses news releases, opinion-editorial pieces, video news releases (VNR), press conferences, advertising, and other methods to deliver your message.
1. One in a series of print ads produced for the Hawaii State Teachers Association during its prolonged contract negotiations with the State of Hawaii over the issue of furlough Fridays. Issue advertising is the most effective way for an organization to deliver information that presents its position and key messages to a broad audience.
2. This informational brochure produced for the Kaho'olawe Island Reserve Commission was one component of a media kit that was handed out at ceremonies at Iolani Palace commemorating the transfer of control of access to the Island of Kaho'olawe from the U.S. Navy to the State of Hawaii. Fuel also handled the media relations for this event.
3. Fuel produced this direct mail informational brochure as part of Moloka'i Properties' effort to gain community support for its Community-Based Master Land Use Plan for Moloka'i Ranch. The mailer, which was sent to more than 2,000 homes on Moloka'i, included a DVD.
4. Fuel produced two print ads for National Popular Vote to support passage of the National Popular Vote Law, which would guarantee that presidential candidates who receive the most votes in all 50 states also receive the electoral votes needed to be elected President. The law was passed by the Hawaii State Legislature but was vetoed by Governor Linda Lingle. The veto was not overridden.